What is a Red Fox Ceilidh?
What is a ceilidh?
Ceilidh is the Scottish word for a barn dance, or country dancing. Like their Scottish counterparts, English ceilidhs are fun and sociable events with live music and entertainment.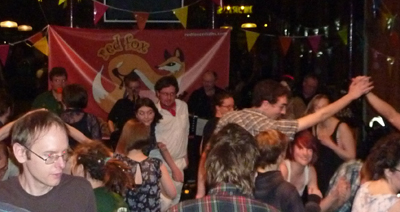 The atmosphere
The most important thing about Red Fox Ceilidhs is the atmosphere – everyone is welcome, whatever their experience and whether or not they want to dance!
We welcome people of any age to attend and encourage whole families to come along – discounted tickets are available to young people up to the age of 26.
We always provide a full bar serving real ale and a range of alcoholic and soft drinks as well as snacks and sweets.
All of this creates a lively, fun atmosphere that's infectious. You can't help but become part of the event.
The dancing
Ceilidh dances are a mixture of old and new, some simple and some with more complex figures. Most of them are English in origin, but there is lots of crossover with other traditions, particularly Scottish dancing - but ceilidh is not American line-dancing!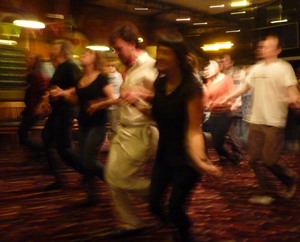 A caller will explain the steps in a walk-through and then continue to call reminders as necessary during the dance.
The common formations for English dances are large circles, square sets, and longways sets in lines with a partner. For most dances you will need a partner (although you don't have to bring your own – there are plenty of people to dance with at each event), but for some dances you do not stay with the same person throughout the dance.
There is no special footwork, and no experience is necessary. At Red Fox Ceilidhs we welcome dancers and non-dancers alike: whether you want to dance all night or simply sit and enjoy the music!
This mix of experience creates the unique environment we believe make English Ceilidh special.
The music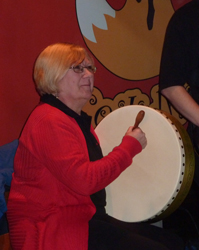 At Red Fox Ceilidhs there will always be a live band. We like to have a different band (and caller) each time, and we like to showcase local talent, so please get in touch if you would like to suggest a band for future events.
The music played is a mixture of jigs, polkas and tunes in 4-4 (not necessarily reels, as these tend to be Scottish or Irish tunes). Depending on the band the music might be straightforward English folk music, or with influences from jazz, rock, bluegrass and even pop.
At half-time
At Red Fox Ceilidhs we feature dance display teams from the local area at half time. Whilst these are usually traditional English dancers (such as morris or clog dancers) we welcome dance teams from any tradition: please get in touch if your team would be interested in doing a spot.
For a full description of English ceilidh, please visit the Webfeet website.